Christmas Gifts for Every Budget in 2020
What would the holidays be like without Christmas Gifts! There's nothing like see the joy on your loved ones faces this time of year, is there?.  Check out our Best-selling Christmas Gifts for making happy your loved ones. Use the coupon code: "XMAS25" for getting an extra 25% Off. 
Optimum comfort comes with a soft, knitted, warm and stretchable acrylic fabric. Christmas design cap, beautiful and stylish.
Winter knitted cap beanie hat to keep head warm from cold with adorable style. Made of high-quality material, elastic and flexible and thick, good hand feeling, comfortable to wear. And also can be a gift for Christmas and new year.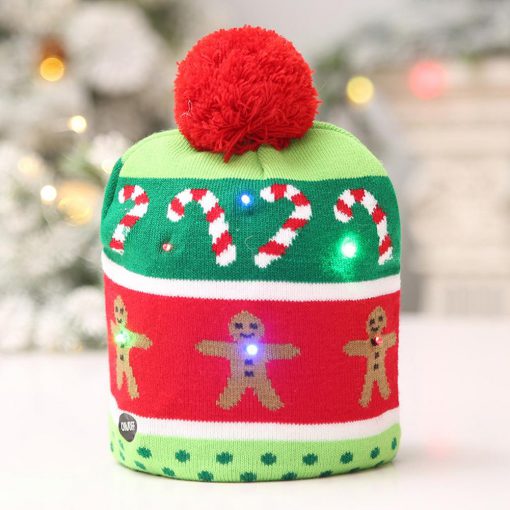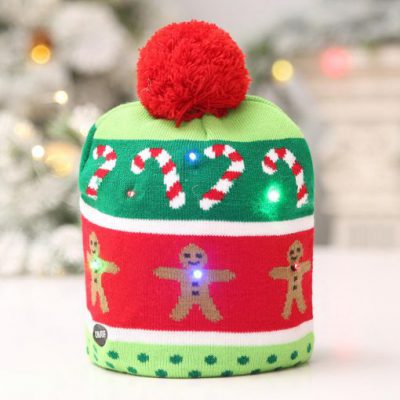 LED Christmas Beanie – $9.95
Add fun to your Christmas party with this inflatable ring toss game. Let's play Christmas reindeer games. Throw the round rings onto the large reindeer antlers on your friend's head and take turns wearing the antlers to make your own games. They will bring joy to your Christmas party!
Inflatable Reindeer Antler toss game is lightweight and portable, a good interactive game, can wear this Antler on their head or toss them with your kids at Christmas party, the player who gets the most rings around the flamingo wins a prize!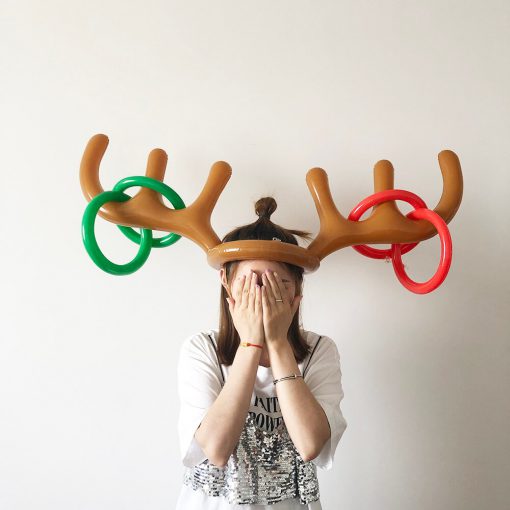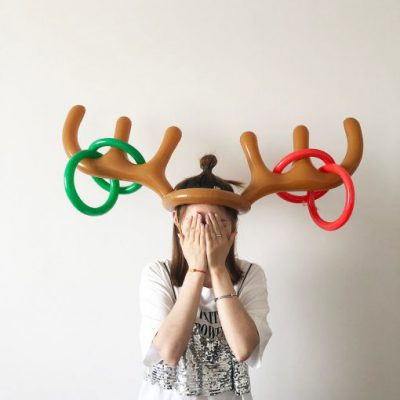 Christmas Ring Toss Game – $9.95
Both inside and outside are high-quality fiber fabrics, warm and comfortable, radiates heat back to your pet. An enclosed house can be used as a cozy cave to hideaway or folded into a lovely pet sofa, your pet can sleep on the thick and soft inner mat for maximum comfort.
Both pet bed and pet mat are machine washable; no machine drying, please. Portable and lightweight to carry everywhere for car, bedroom, living room, etc.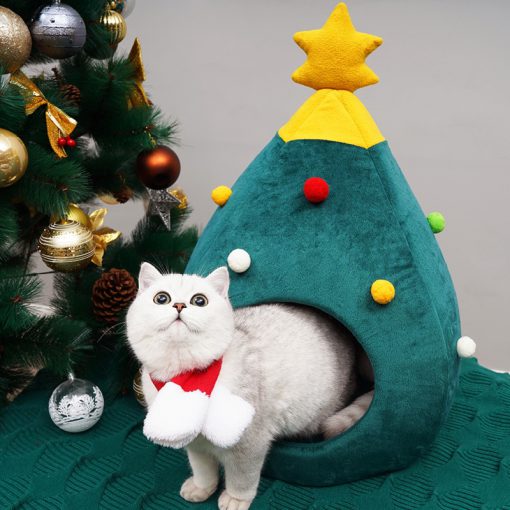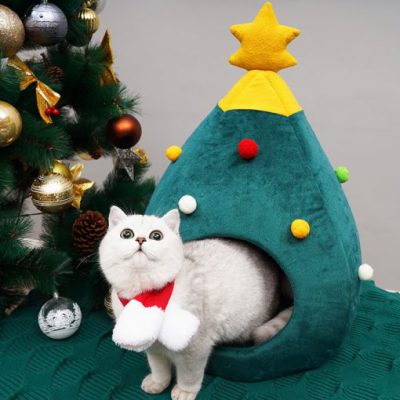 Christmas Cat Nest–$34.95 – $39.95
The special floating liquid can move freely, twinkle to you like the stars and add fun to you. Creative 3D flowing liquid case with merry Christmas theme will make your friends jealous.
The bling flowing glitter liquid of this iPhone Christmas case can move freely, just like the stars floating in the water, will make much fun to you and your friends or family.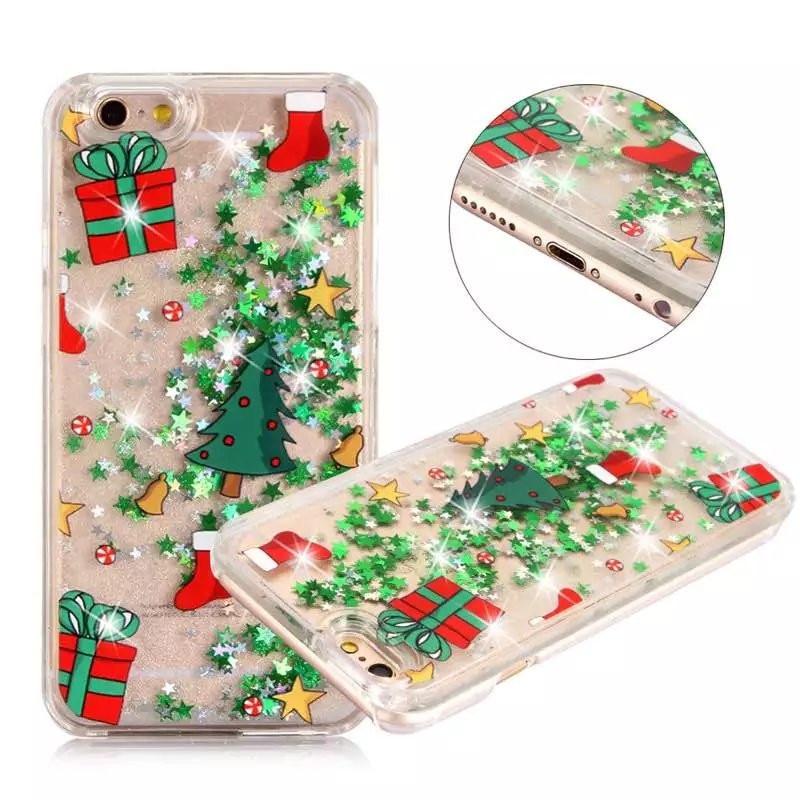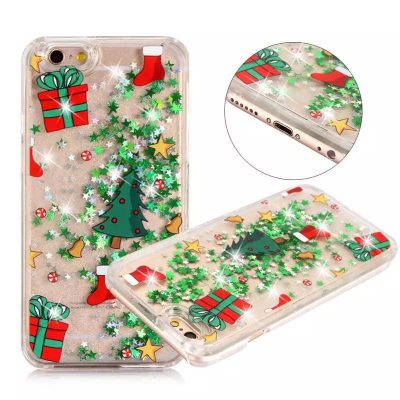 Glitter Christmas Phone Case – $11.95
Ordinary string lights are such a hassle to hang.  And they're just that – ordinary. Bulbs burn out and ruin your entire light display on your tree. Spruce up your tree this holiday season with these lights.
It's the easy, festive way to create a spectacular lights show on your Christmas Tree. Scrolling patterns and vertical waves of colorful light in the following patterns: streaming colors, Christmas scroll, multicolor cascade, rainbow fade, and 8-color spin.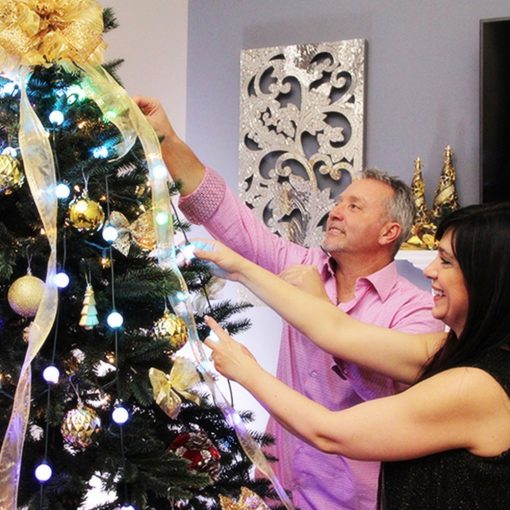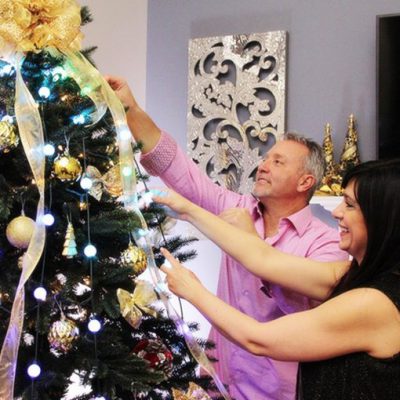 Christmas Tree LED String Lights–$49.95 – $58.95
With this costume for your dog, you will make your friends and family laugh because it looks so cute and fun! People love this!
The high finish and solid quality of this package make it a truly unique appearance! The costume is nice and warm and you can easily attach it to the dog with velcro. Ideal for the cold holidays!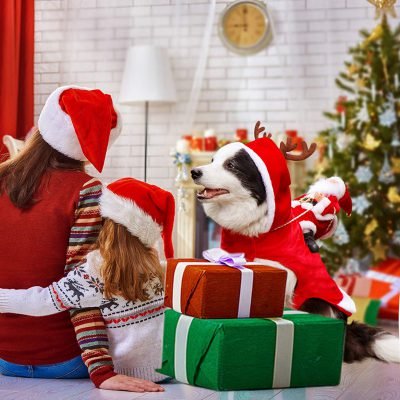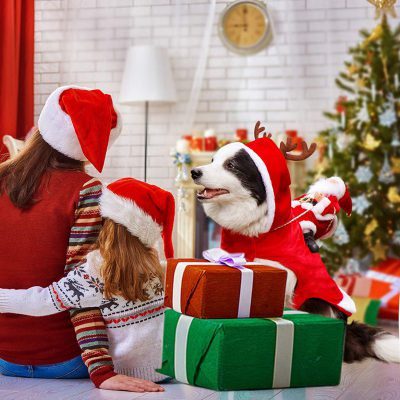 Christmas Dog Costume – $24.95
The perfect solution for easy decorating on any holiday and other special occasions, like Halloween, Christmas, birthdays, office parties or any time you want to add some fun to an empty environment.
Rear Projection Screen- Window Wonderland includes a 4-foot by 6-foot rear projection screen.  This allows the Window Wonderland projector to sit behind the screen and project out toward your audience (in this case, your neighborhood).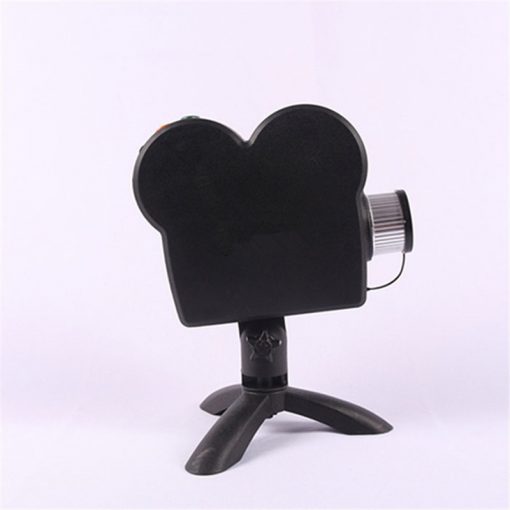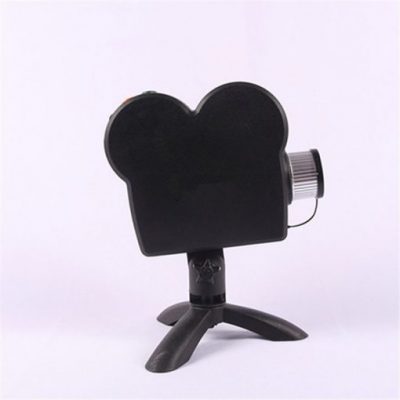 Halloween & Christmas Window Wonderland projector – $59.95
Try different sounds and hear how they can mimic you perfectly with their cute voice. They can be a great addition to your Christmas theme décor with their cute little red hats and scarves. 
Put them beside babies and hear them mimic even their cutest babbles! Try any other sound you want to hear it mimic! It's definitely a fun toy for all ages!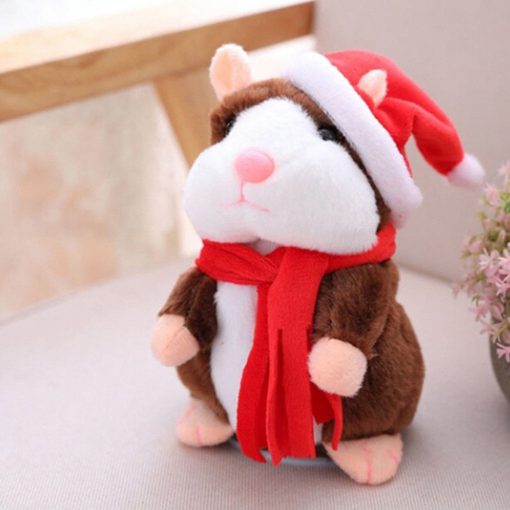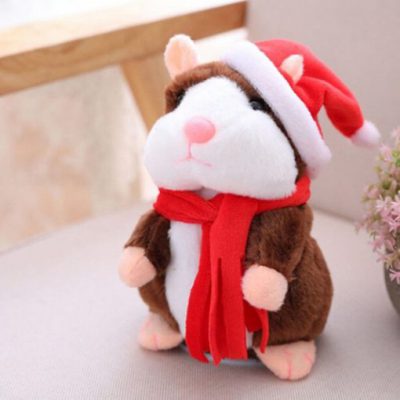 Christmas Gift! Cutie Talking Hamster – $19.95
These Colorful Casual crew socks mixed colors put a fun finishing touch on your outfits. Perfect present for family members, friends and anyone you love. Making you be full of energy. No need to worry about deformation or fading. It's great to hand wash or machine wash and hang air drying.
Applicable to any occasion: These socks are ideal for work, sports, boot, hiking, running, exercise, etc. Not too thick or too thin, suitable for spring, autumn, home, office, everyday use.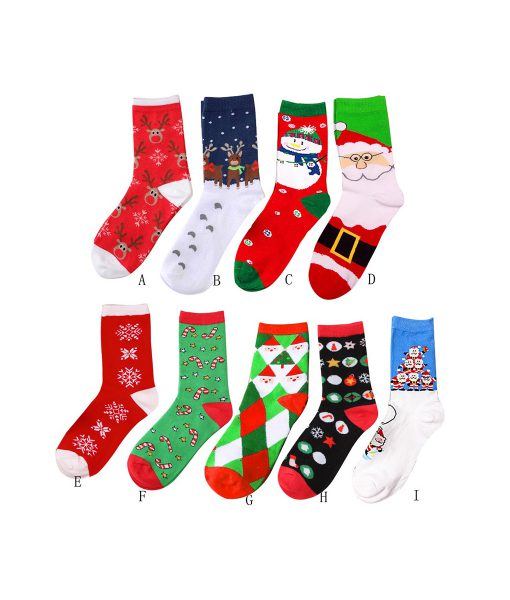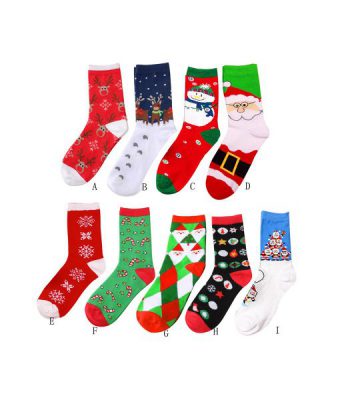 Christmas Cotton Sock – $9.96
Enjoy the delightful aroma throughout your entire room while it burns. Candles are made using the highest concentration of quality fragranced oils that will leave you feeling calm and relaxed.
Perfect for your kitchen, bathroom, living room, office, and any other space in need of a delightful highly fragranced scent.
Give as a gift or keep for yourself. Makes a great hostess gift, housewarming gift, bridal shower, Christmas gift, teacher appreciation gift, Mother's Day gift and more.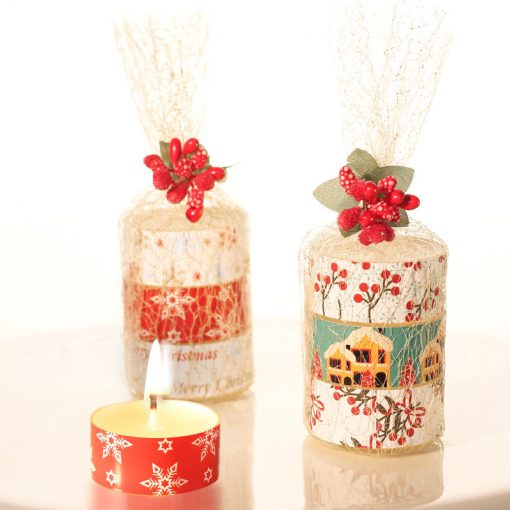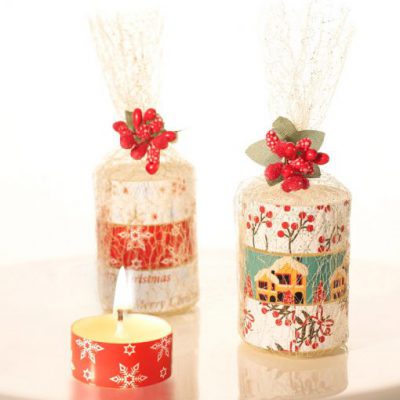 3 Pcs Aromatherapy Candle for Christmas – $15.95
It's the perfect way to add a little rustic charm to your home this Christmas. Designed and created to a very high standard. The perfect addition to your Christmas!
There's something wonderfully calming and cozy about wood, especially when it's been carefully crafted into such a unique and beautiful candle holder. Impress your friends and family! It also makes a great Christmas Gift.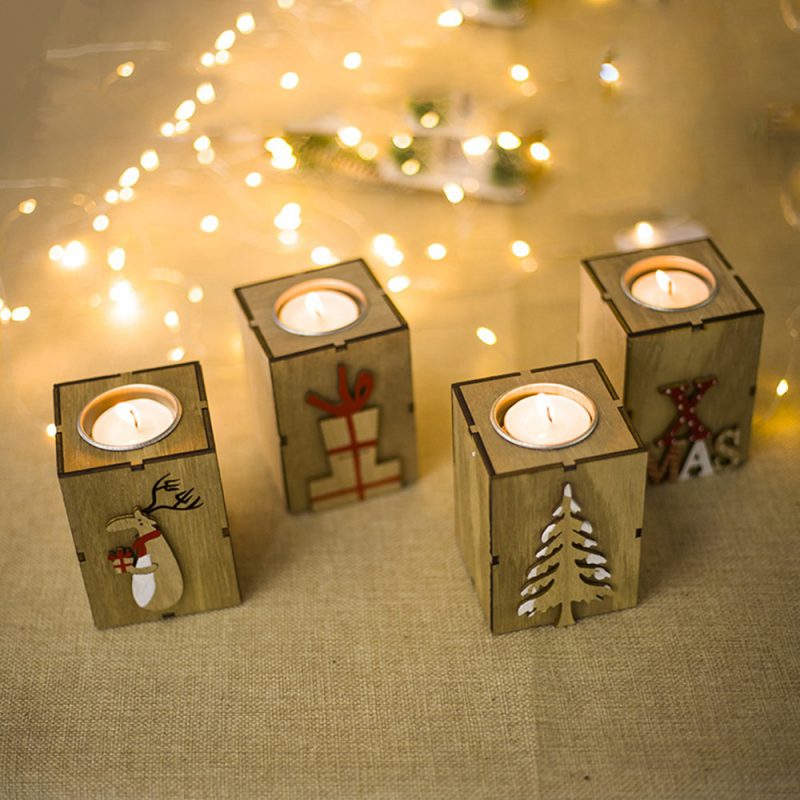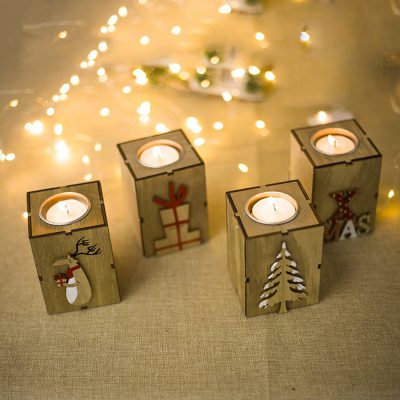 Lovely Christmas Wooden Candle Holder – $9.95
If you're having guests over for a New Years-season dinner party, or just a quiet meal with your family, everyone is sure to get a laugh out of this delightful and unique piece of New Years' decoration.
Just directly cover these Christmas Dinner Table Chair Covers on your chairs to make your holidays more Warmer and Perfect.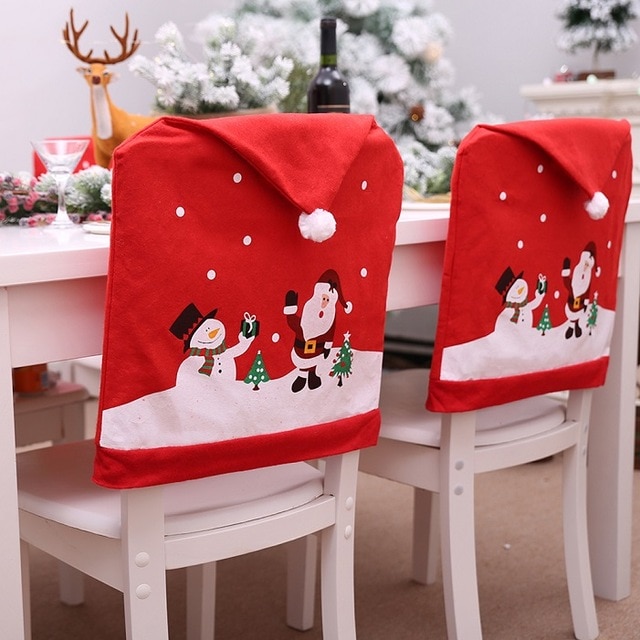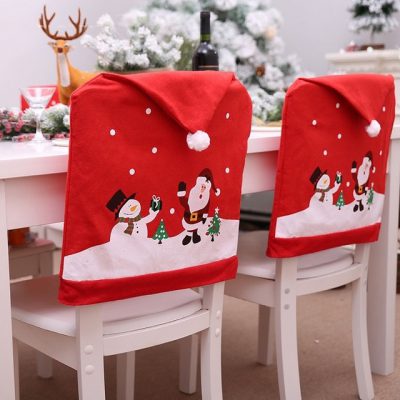 Christmas Dinner Table Chair Covers–$9.95 – $11.95
An adorable way to freshen up your holiday decor, these Decorative Christmas Wine Bottle Covers are available in numerous styles and feature all of your favorite Christmas characters, including Santa, Rudolph, Frosty and more.
Perfect for Christmas parties and holiday-themed events, add a little Christmas cheer to your favorite bottle or bring one along for a fun and unique gift.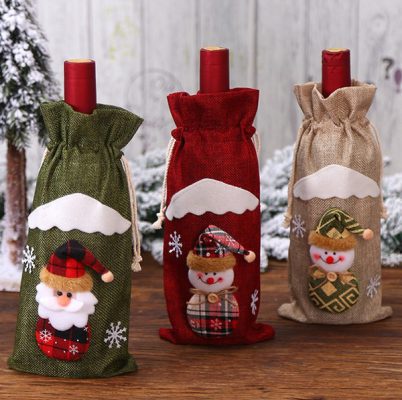 Christmas Wine Bottle Cover Bag – $7.95
Small Christmas Tree is attractive for all your desks in room and office.
 A good gift for your kids, families, friends. They will be very happy to receive it. With this elegant and colorful realistic Christmas tree, you will fill your room with magical colors.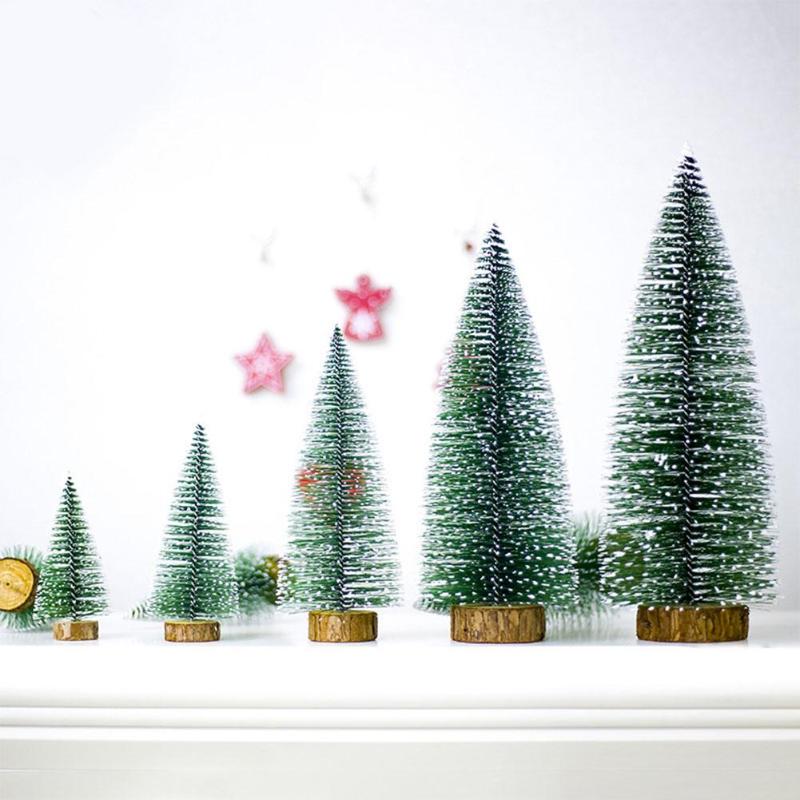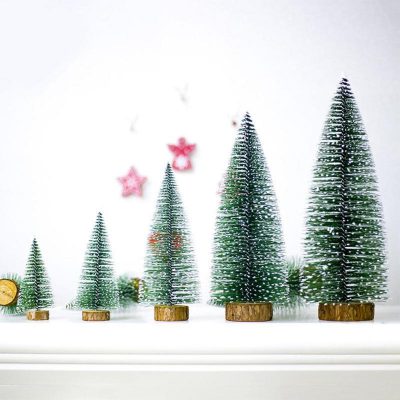 Small Christmas Tree–$6.95 – $10.95
Upgrade your holiday decor with our Choo Choo Christmas Train.
The Christmas-themed train comes with four train cars that all hold fun characters. It's perfect for adding some adorable style to your Christmas decorations or even giving as a gift!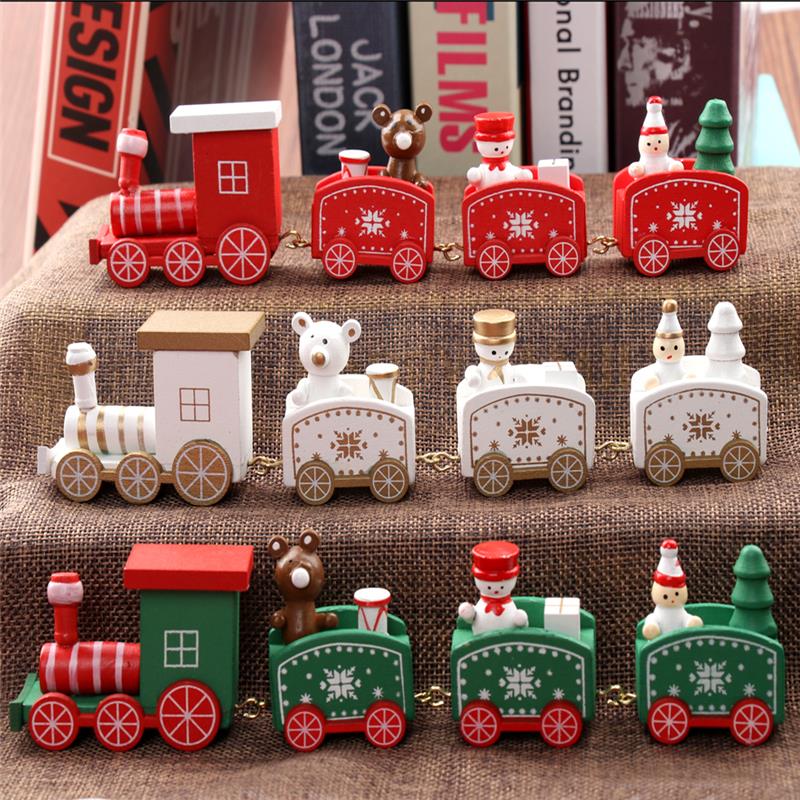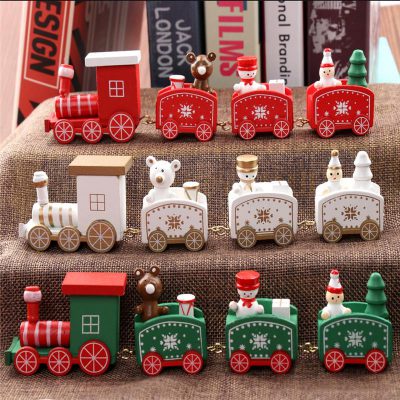 Choo Choo Christmas Train – $12.95 – $14.95
This small wreath is decorated with pine cones, bows, snowman, bear, Santa Claus, deer, very cute. This product is perfect on your front door, in an entryway or anywhere in your home.
Beautiful wreath liven up your home! A perfect accessory to help create a festival environment.  It can be used as the home decoration, Christmas decorations, Christmas tree ornaments; Perfect for decorating hotel, office building, market, etc.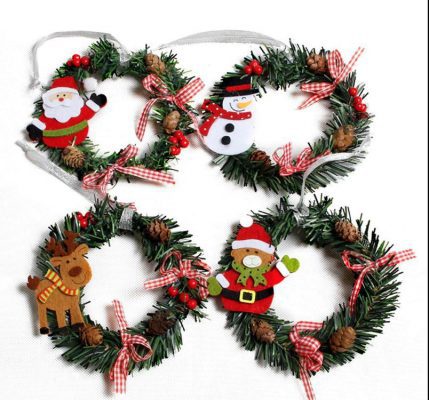 Christmas Door Decorations Ornament – $7.95
Moisture-wicking, ventilation, soft touch and durability. Breathable, non-binding, great stretch. The elastic at the top is strong, so they stay up just fine but don't squeeze your leg.
Sleep socks will keep your body warm, so you can have a nice deep sleep with sugar dream. It is made of Super-stretch Cotton, lightweight, warm without being bulky, soft, comfortable socks. These Christmas themed socks are also perfect as gifts and stocking stuffers.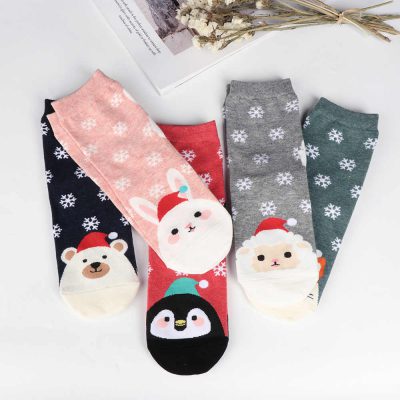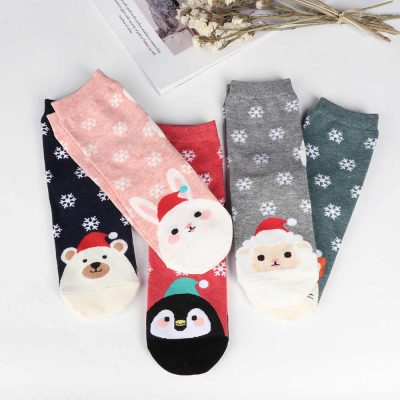 Christmas Short Cotton Socks – $12.95
Let your kids enjoy an actual standup Christmas Tree. It's created from quality felt cloth which is safe for kid's play. Different ornaments to place and tickle their creativity.
Easy to decorate by simply hanging the small pendant-like ornaments. Keeps them busy by choosing which one to use first and where to place. Create more bonding time with the children.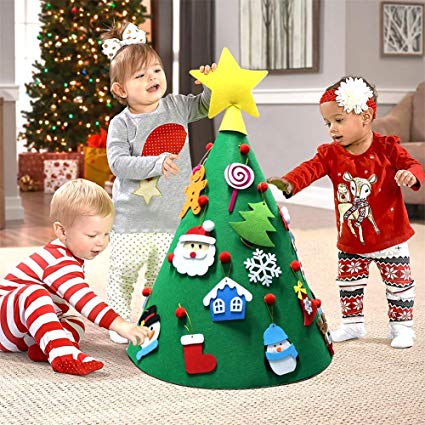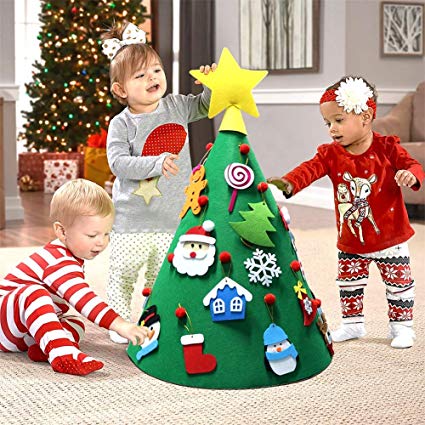 3D Toddler Christmas Tree – $19.95
If you're looking for a unique decoration for holidays, you will be amazed by this beautiful 3D Color Changing Christmas Tree Lamp. Its 3D visual effect will look great in your living room, especially if placed in the dark.
This charming and one of a kind 3D Illusion Lamp is made up of a high-quality LED light source that has low power consumption and a long working lifespan. It will make awesome photographs!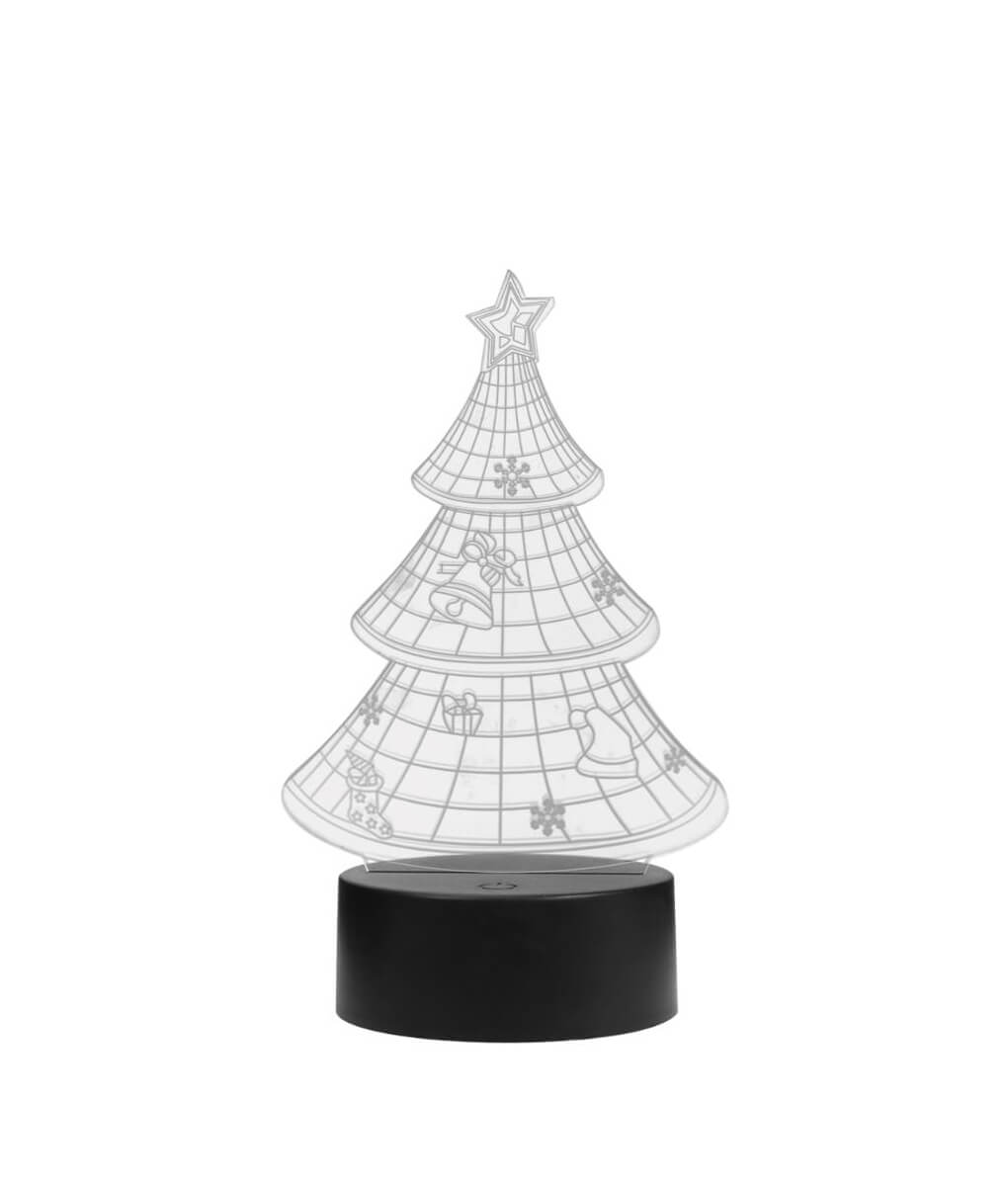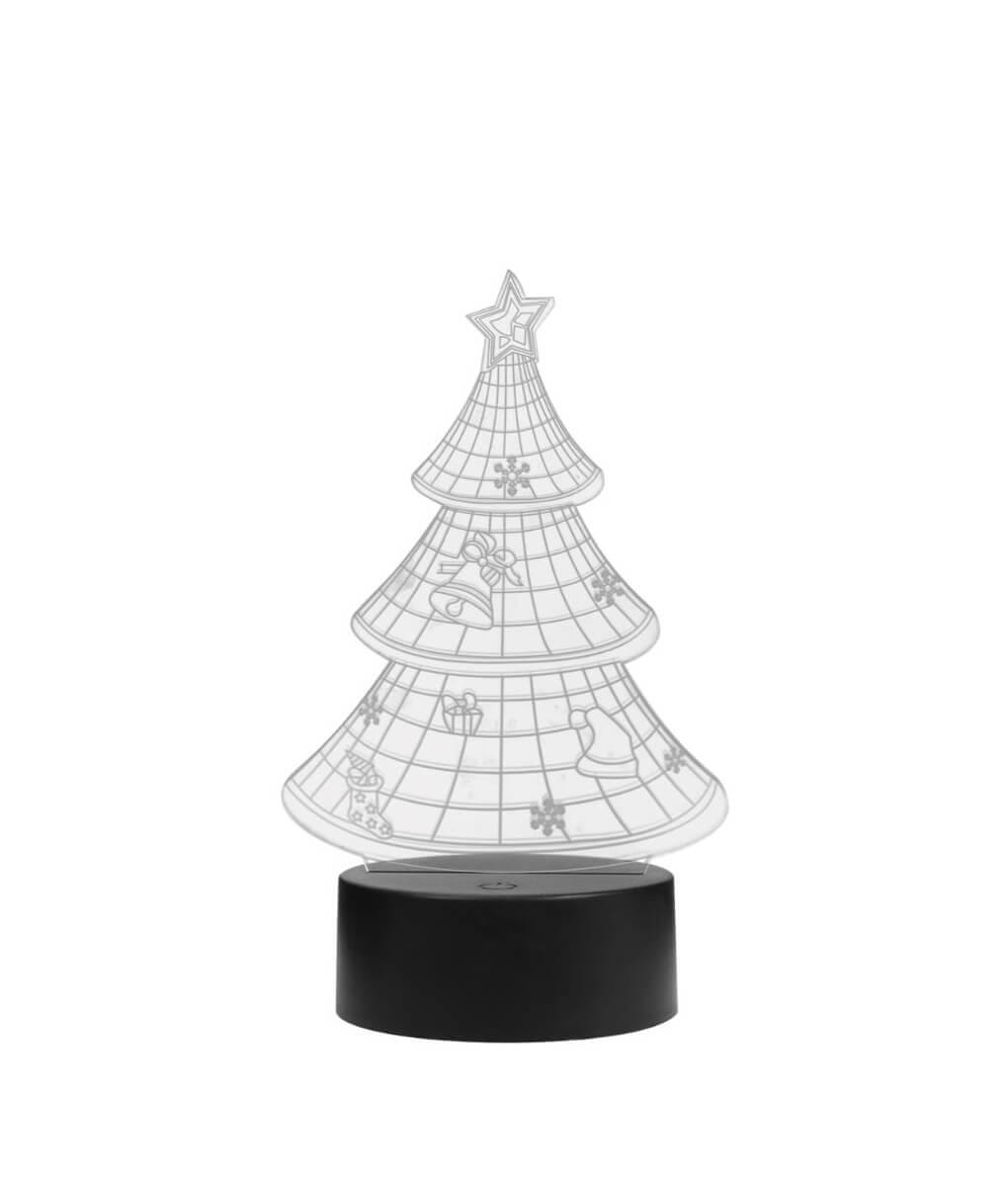 Christmas LED 3D night lights – $23.95
High quality fantastic looking Christmas themed phone case. Simple, Dirt-resistant, Anti-knock, comfortable, easy to carry.
It adequately protects devices from the normal scratches, dirt, tear and wears.With good performance and high quality, it may work for a long time.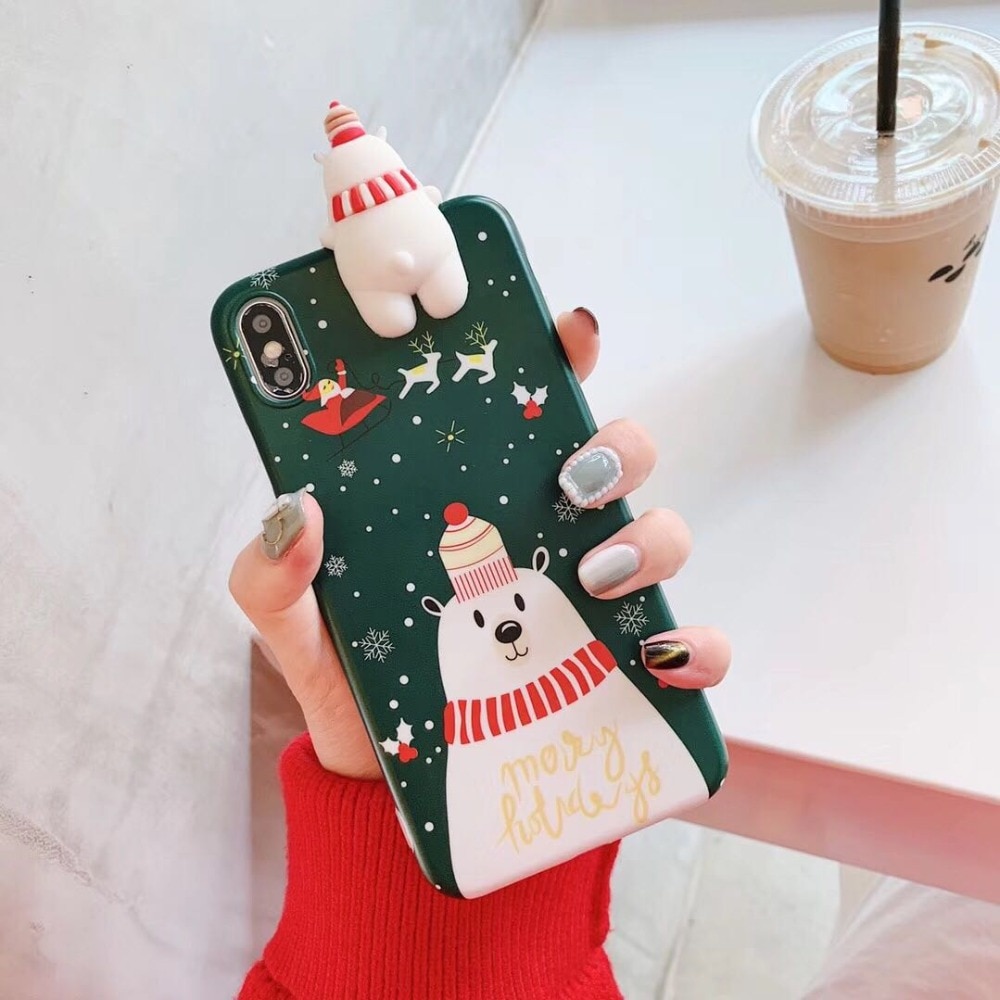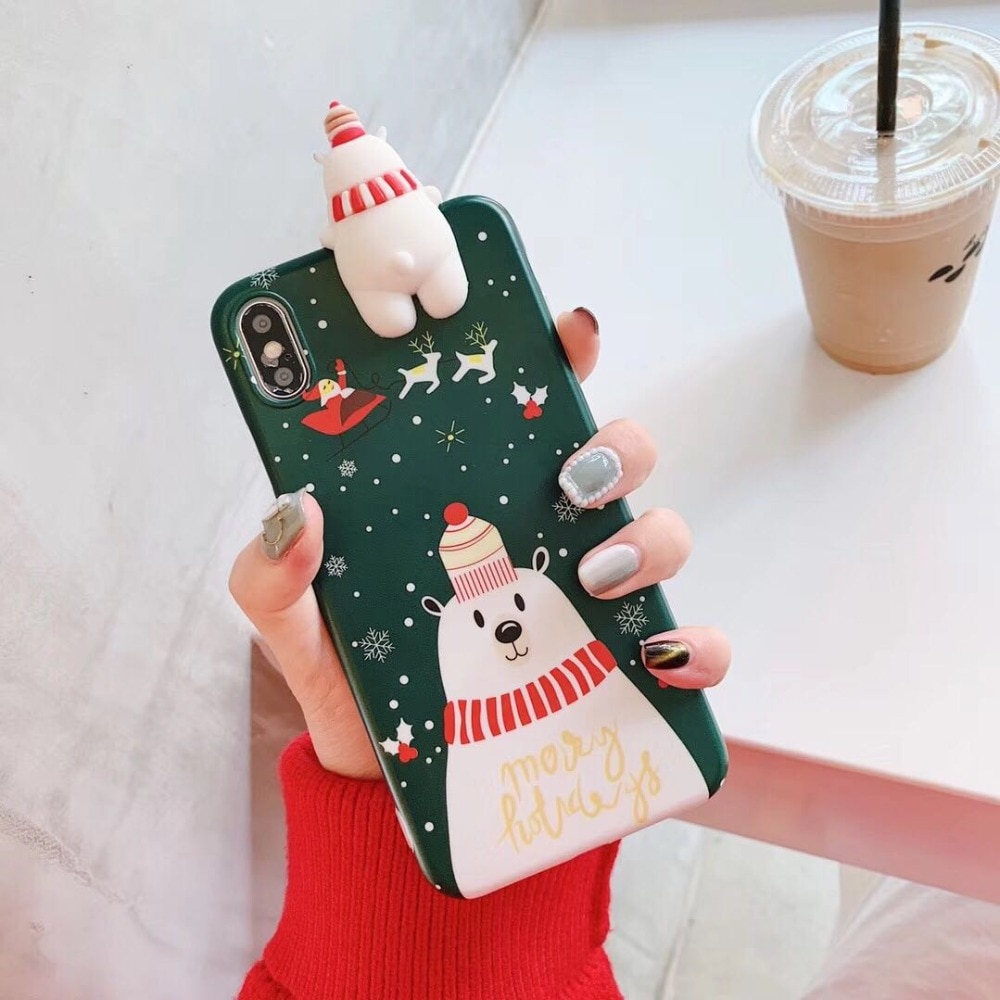 Christmas Snowman Phone Case – $14.95
This Christmas countdown wood blocks perfect for counting down the days till Christmas. 
This nutcracker will complement any Christmas decor theme and is sure to bring the Christmas spirit into your home.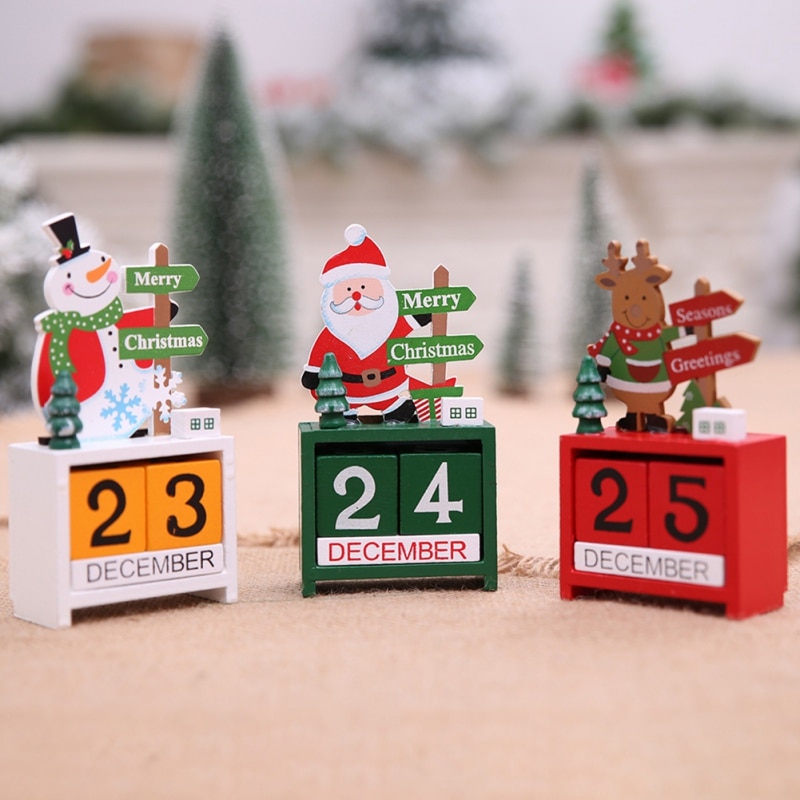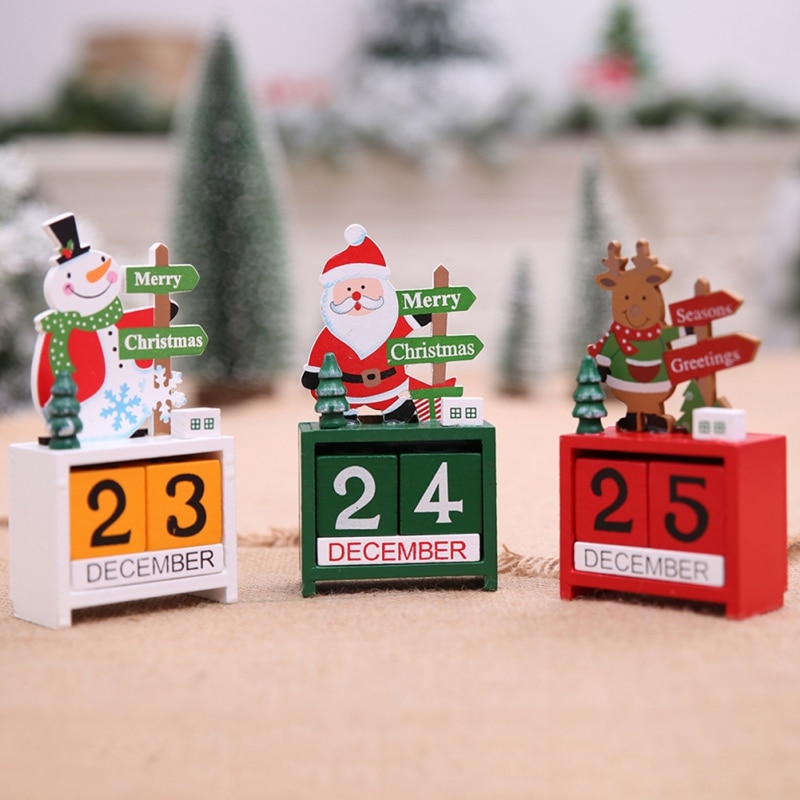 Christmas Countdown Calendar Wooden Ornaments – $13.95
Add some kid-friendly holiday cheer ritual to your home with this Felt Christmas tree! Kids can pick a favorite design to place on the tree each day, following the numbered outlines to fill the tree right up to Christmas. They'll also love to switch, move, and rearrange the pieces to customize their very own tree countless times!
Premium quality felt is used for all felt components. Large felt wall background piece has 4 sturdy grommets that hang easily on the wall with hooks, tabs or even tape. It can also be used on the floor. No glued velcro tabs on the tree so kids can decorate as they please!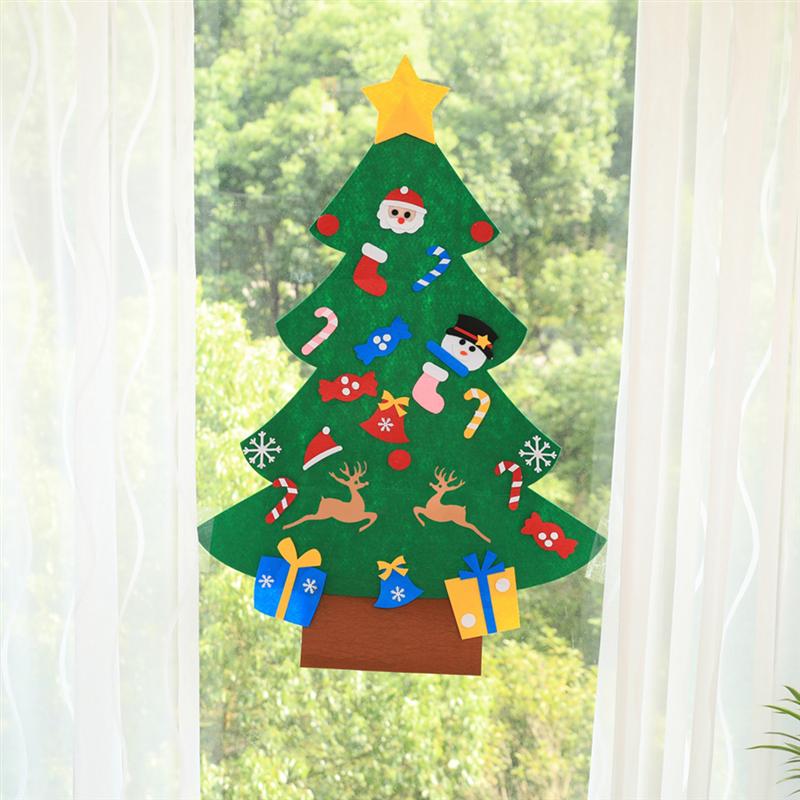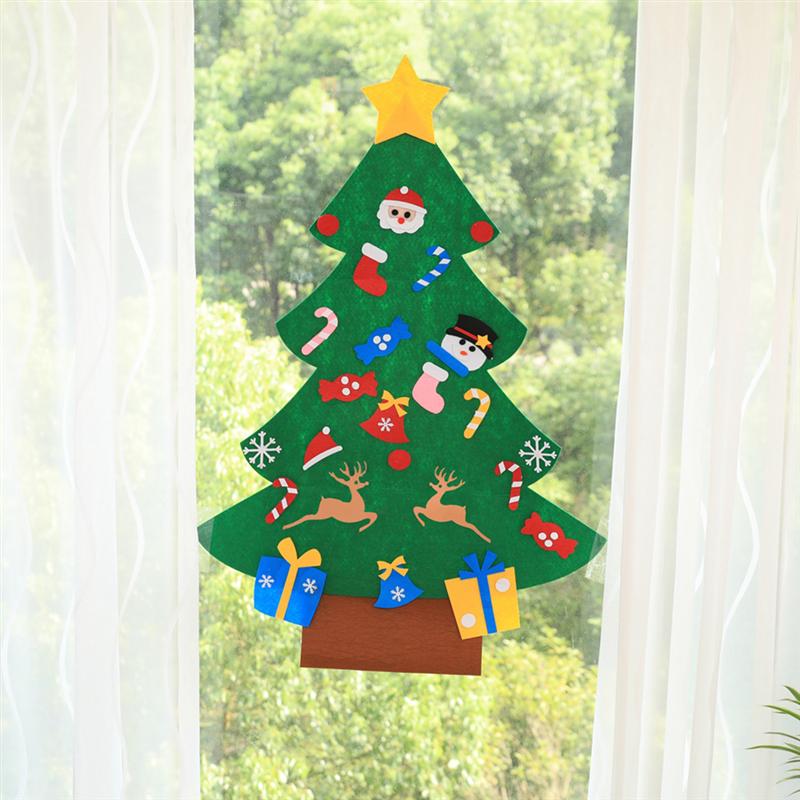 Felt Christmas Tree – $16.95
If you have a die-hard person in your family who complains about having a traditional stocking hanging on the mantel each Christmas.
Then we have the perfect solution to make your holidays extra festive this year.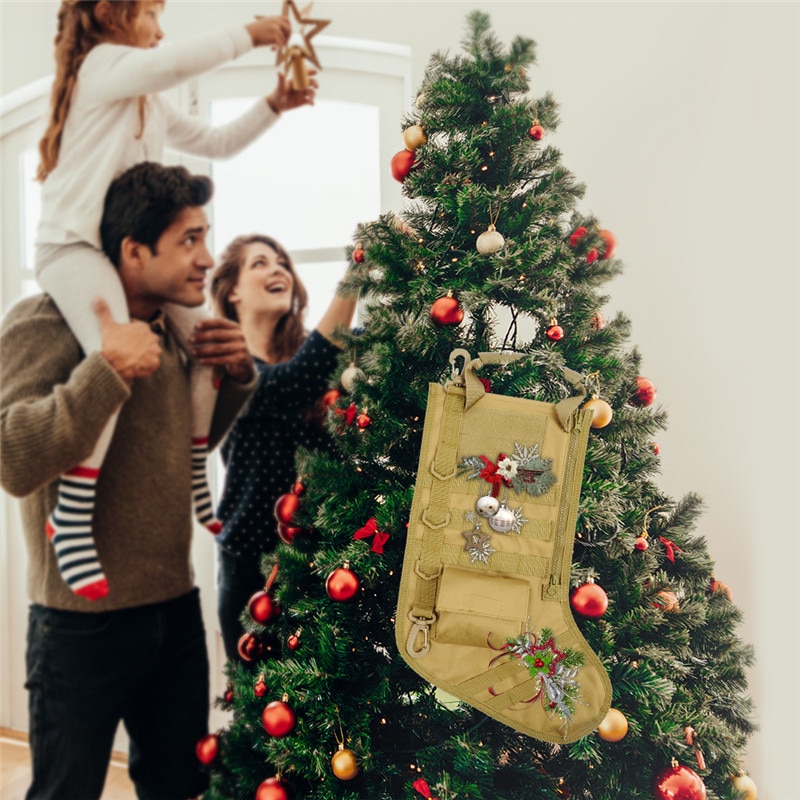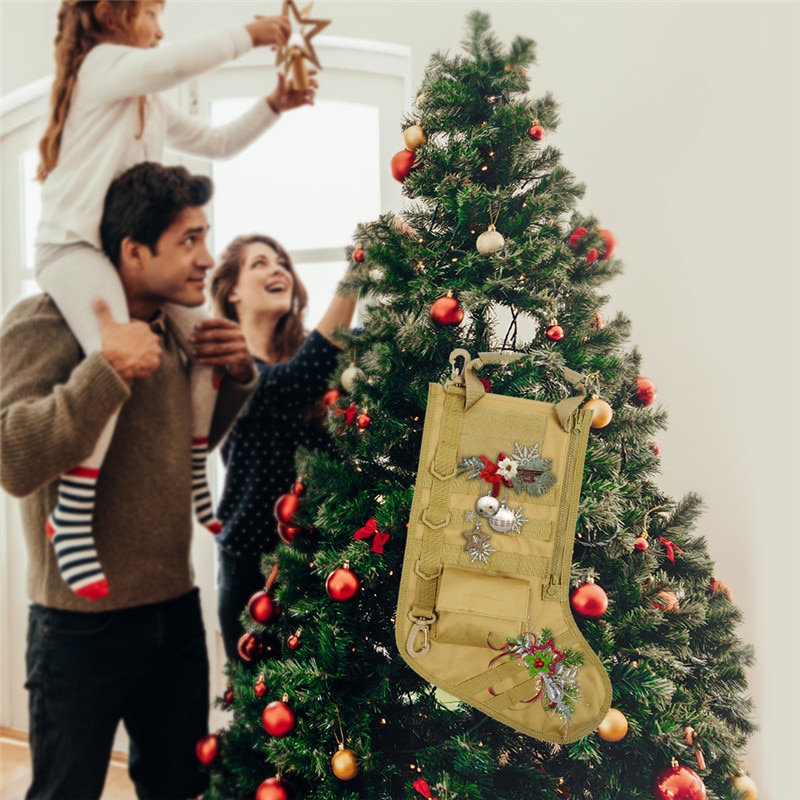 Tactical Christmas Stocking – $17.95
Place your gift in perfectly sized festive bags! Use the drawstring ribbon to secure the top of the bag. Attach one of the coordinating gift tags. That`s it! Simple three steps save a lot of time for you, so you can enjoy your time with your family!
Joopzy`s Gift Bags are very easy to use. It is made of reusable printed laminated material that won't tear like paper. Drawstring ribbons are inserted directly into the bag so no need to buy additional materials like ribbons, tape or gift paper rolls.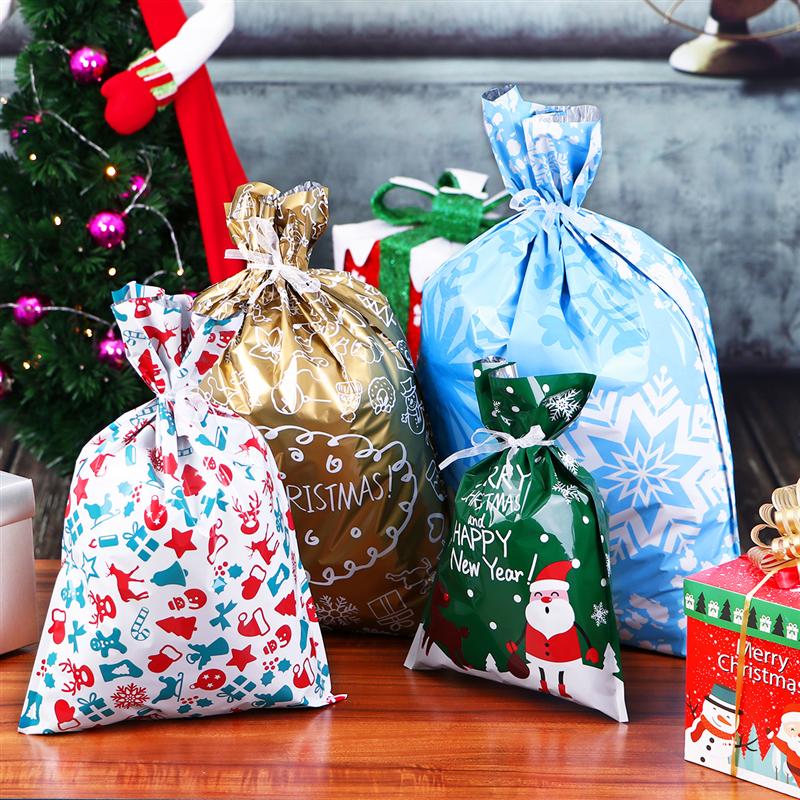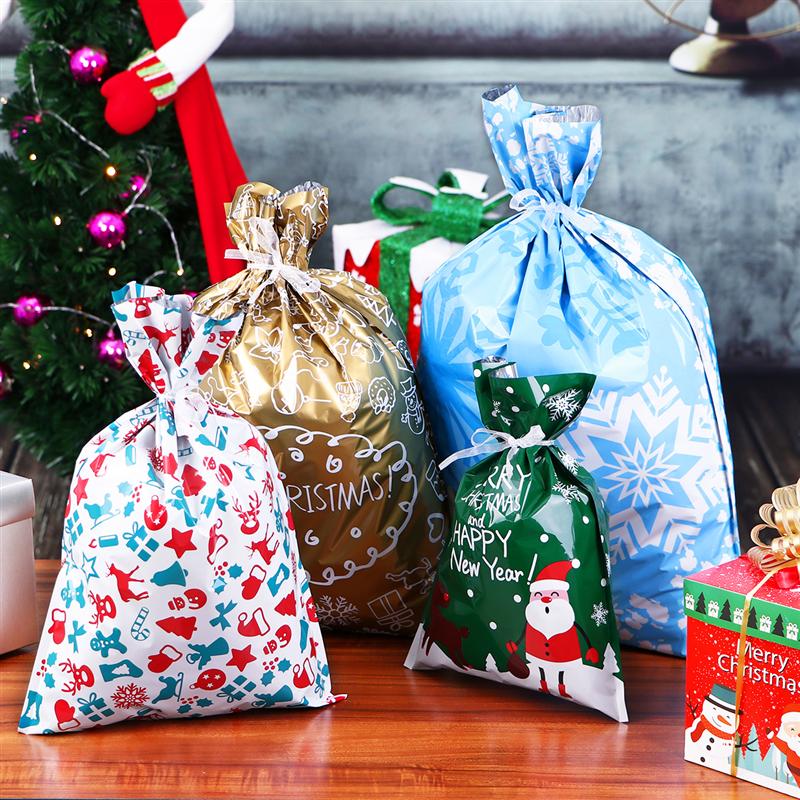 Drawstring Christmas Gift Bags – $23.95
These Christmas Socks fit all sizes and make you feel comfortable with their stretchable cotton material. For your family members and other people who are close to you, the best Christmas gift is indeed Christmas Socks! Let the cute Christmas memories live forever with these Christmas Socks.
These socks will keep you warm in sweet cold nights of winter. Besides, you can wear these socks in all other seasons that will also remind you of Christmas and keep you warm.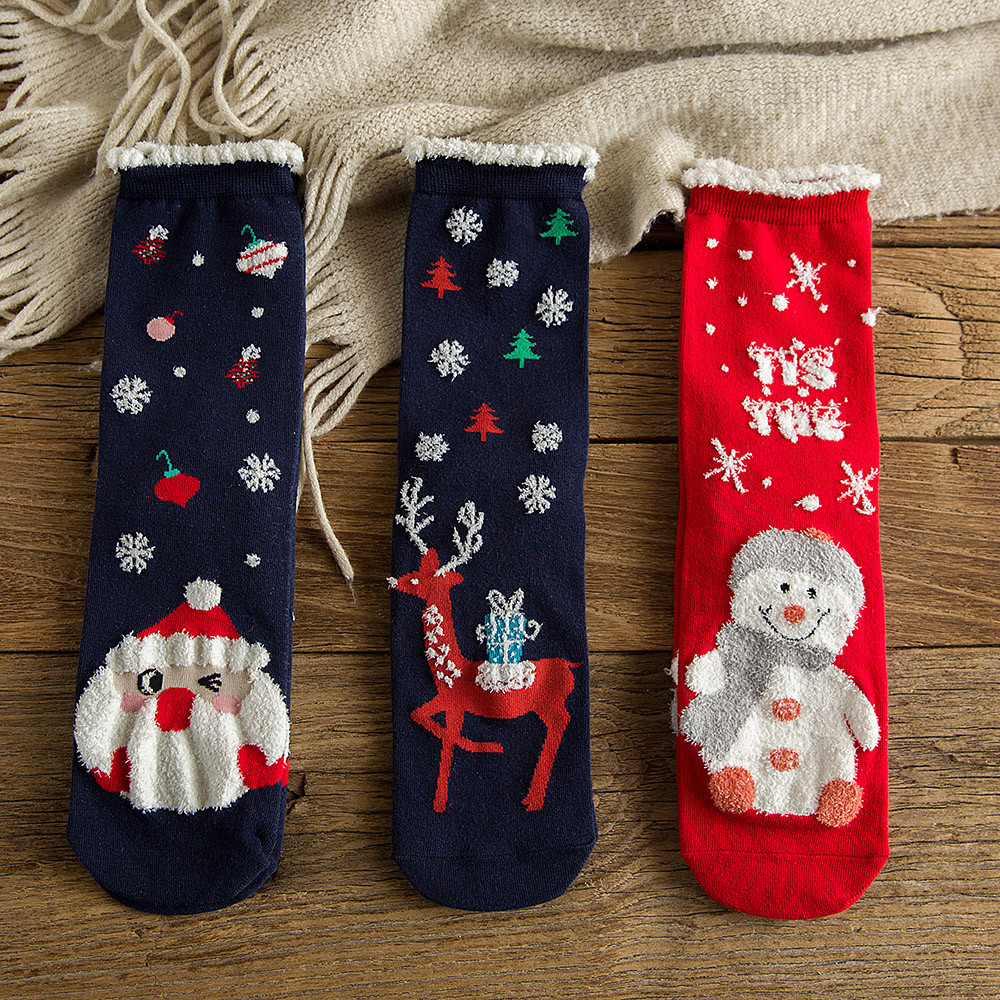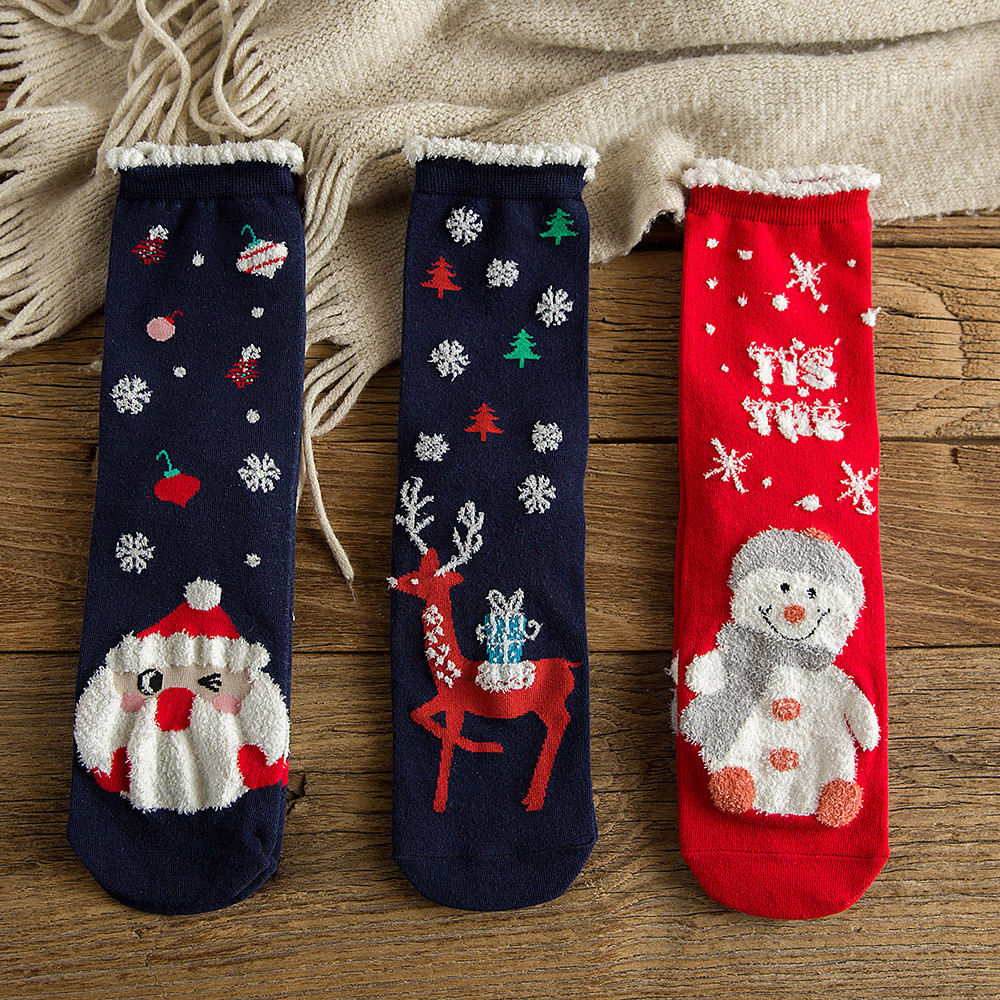 Cotton Christmas Socks  – $10.95
The food with the novelty double heart appearance can increase the guest's appetite. 3D Christmas Cookie Cutter Set is made of high-quality stainless steel material, durable.
Perfect for the oven, microwave oven, and refrigerators, etc. You can use it to the DIY cake, biscuit, bread, etc 8 different shapes can make a wonderful look for your food.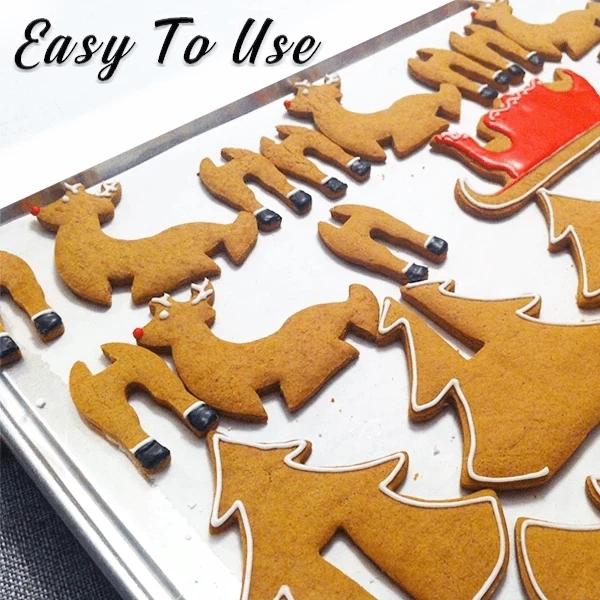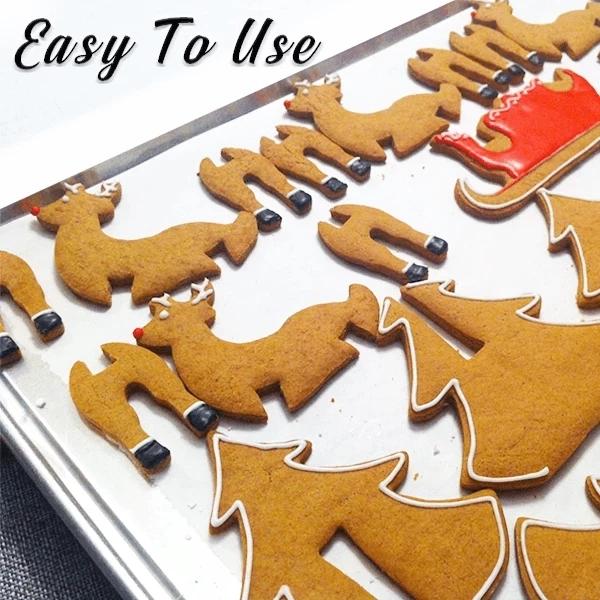 3D Christmas Cookie Cutter Set – $9.95
Add a little extra when serving dinner and decorate your table using cute  Christmas Tableware Holder to hold your silverware in. Why settle for the plain folded napkins when you can enhance the holiday vibe with Christmas Tableware Holder that is sure to catch everyone's eye.
With cute and fun old Santa, snowman, and reindeer pattern design, it is designed to hold a fork, knife, and spoon as well as serve as a creative ornament for Christmas.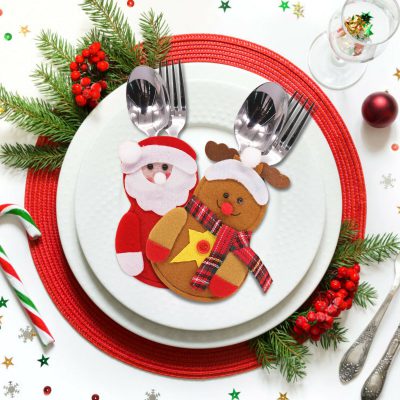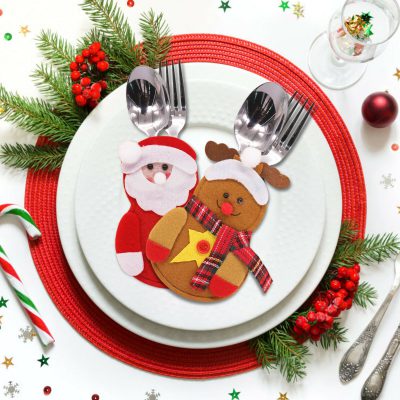 Christmas Tableware Holder – $12.95
Our Christmas Embossing Rolling Pin can be a part of your kitchen or engraved keepsakes. They make a unique and touching gift for any person, family or occasion. Perfect for birthdays, house-warming, Christmas, Mother's Day or special occasion.
Rolling pins and rollers are a MUST-HAVE for every cook and kitchen and are the essential baking supply.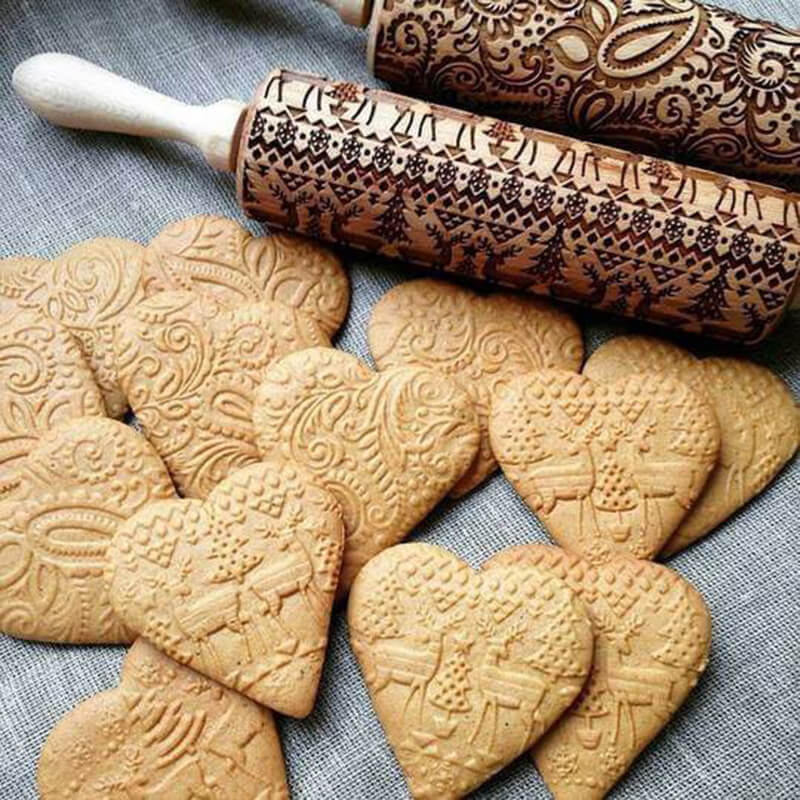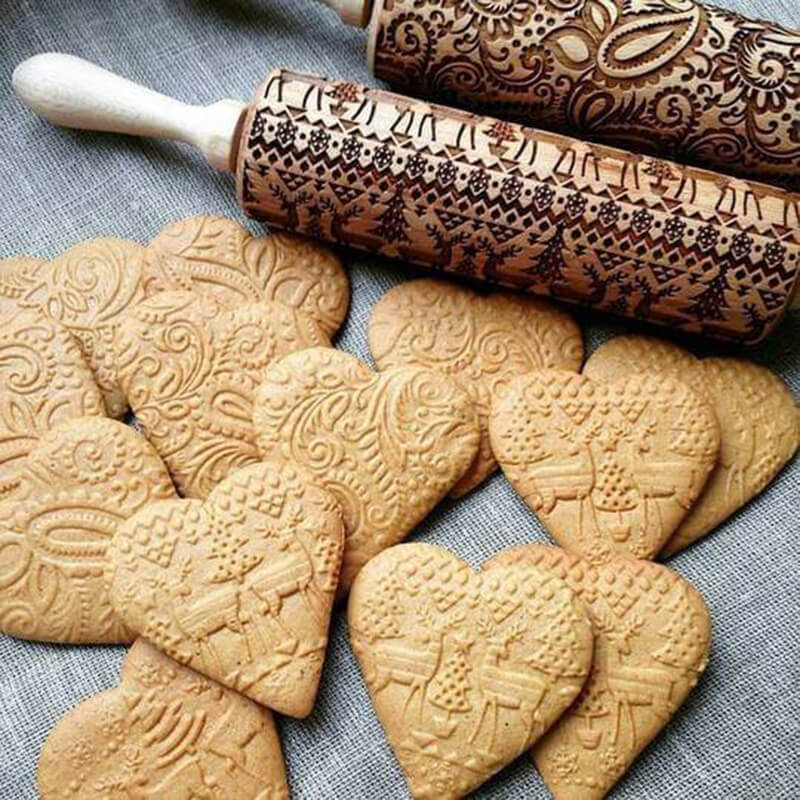 Christmas Embossing Rolling Pin – $19.96
Christmas is just around the corner, and Santa is ready to party!
Impress your friends and family this Christmas with Twerking Santa. Watch as he boogies and twerks away without a care in the world. He'll bring a whole load of fun to the Christmas period and your Christmas decorations.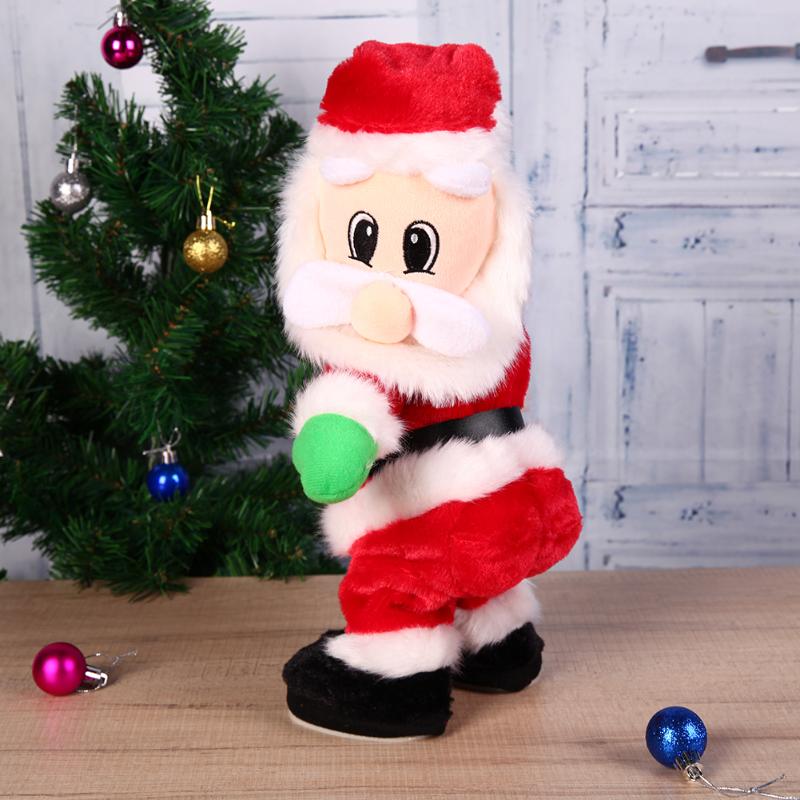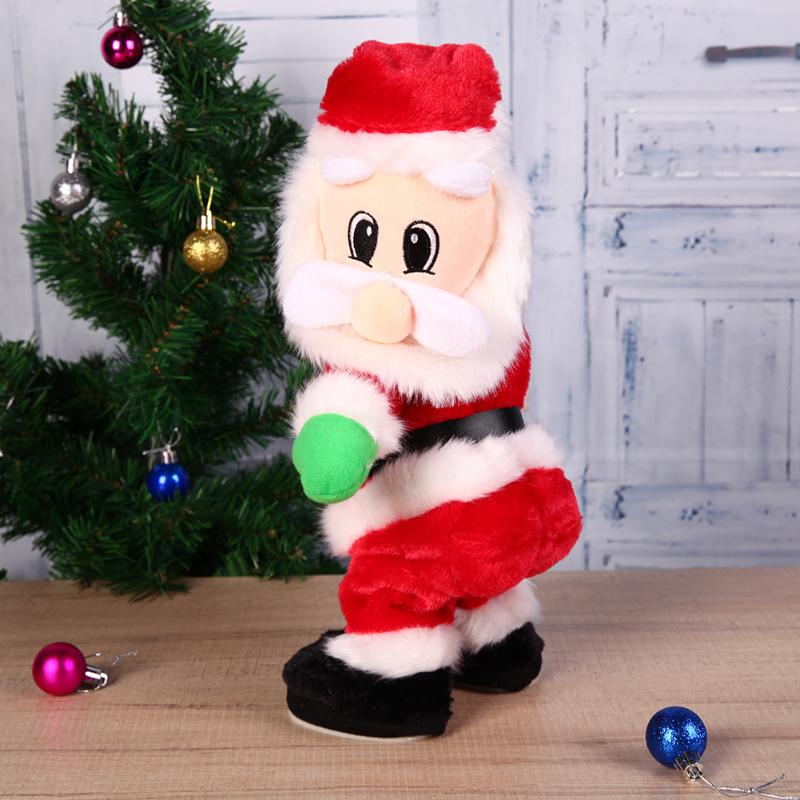 Twerking Santa – $25.95
This toilet cover is made of high-quality fabric with a Christmas cartoon pattern. Impressive Design – Adorable to decorate your bathroom for the Christmas holidays!
Fitted with most types of toilets, let the toilet also full of festive atmosphere. The Santa suit mat comes with a skid-resistant backing.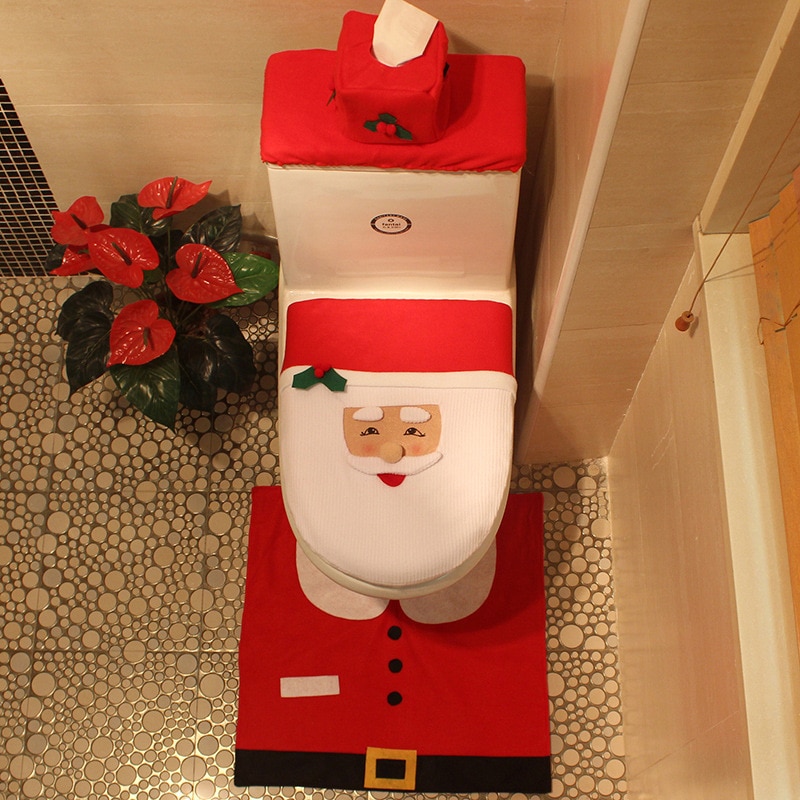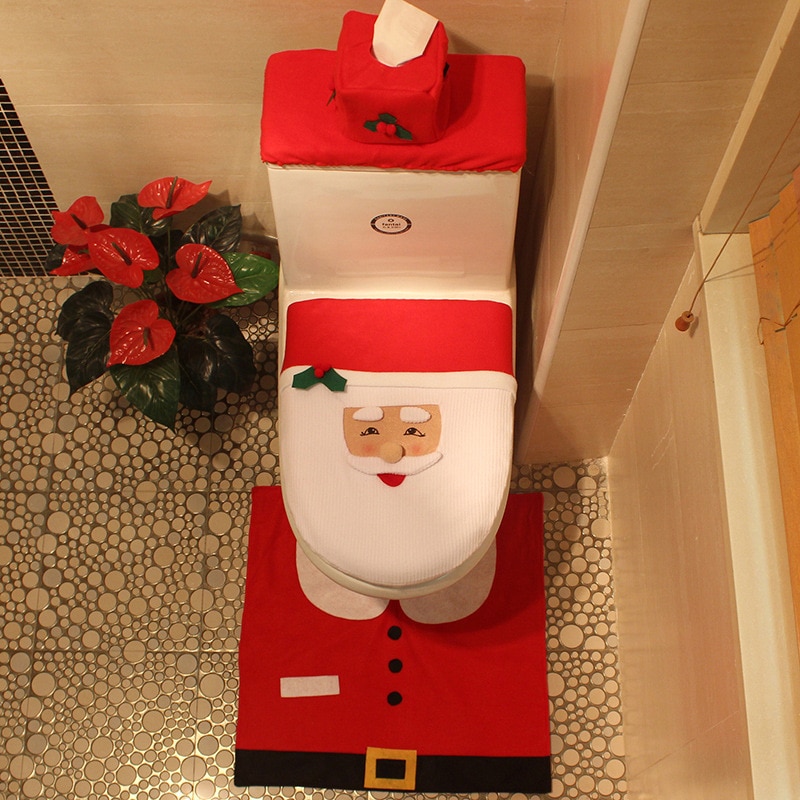 Festive Toilet Set–$13.95 – $15.95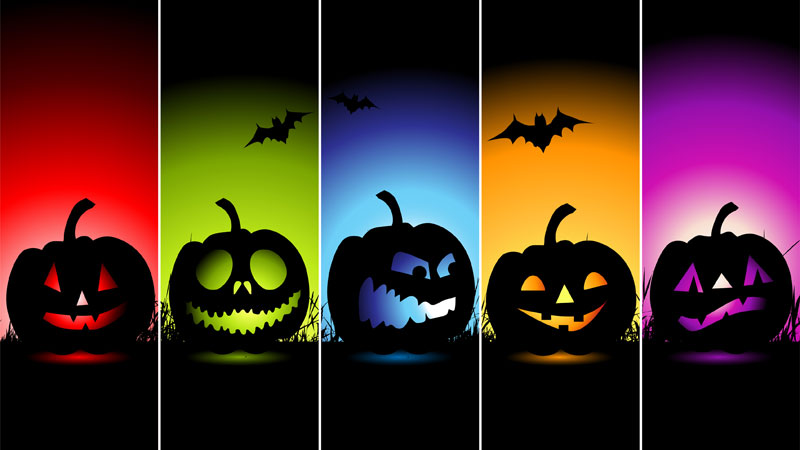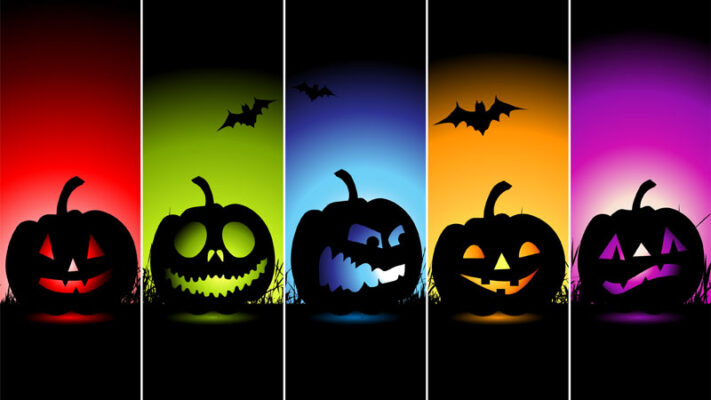 Halloween for the year 2022 is celebrated/observed on Monday, October 31st. We have come out[...]
If you wish additional information about Black Friday products, you can check videos about Joopzy products on Youtube